Document Scanning Solutions
With 30 years industry wide experience, Avacom Services can assist you with computerized electronic document management operations and provide or enhance a document management system that fits and meet your business needs.
Avasev provides major industry support for document management systems turnkey solutions among equipment manufacturers (IBM, Lenovo, Dell, Fujitsu, Kodak and Xerox) and software providers (IBM and Kofax)
Business advantages gain when using document management system.
How can electronic document management systems improve the quality and consistency of business processes?
• Reduce costs of storing and copying information
• Reduce errors and improve customer satisfaction
• Increased responsiveness and efficiency
• No more lost or misplaced documents
• No more duplicated documents
• Organized filing of all electronic documents
• No need for multiple paper copies to support various business areas
• One master electronic document always correctly filed and retrieved
• Easily share information via electronic format instead of paper copies
• Quick response for easily searched information among electronic documents
• Fully automated repository – documents stored automatically
• File Sharing – share your files in controlled and secure ways
• Synchronization – sync your files between different devices
• Remote Access – retrieve and look at files from anywhere and anytime
Avaserv's document imaging and scanning services
• Free consultation
• Design and implementation of a solution for your specific document management needs.
• Delivery of appropriate software and hardware components as a turnkey solution for your document imaging system.
• Providing the outsourcing services for conversion of your documents to the required digitized format for your document archiving needs..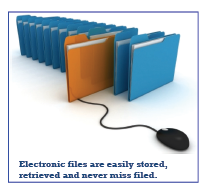 • Providing on-site services for document scanning and archiving services.
• Conversion of your digitized documents to appropriate format to load on your desired media i.e. DVD media, HD media, Direct upload to your specified repository media including private, personal or public Cloud.
• Pickup and delivery of physical document from and to point of interest..
• Labeling of the document boxes for future references.
Set up an appointment for Avacom Services to access your document management requirements. Call us and let's begin our discussion.
Please contact us to discuss your current and future needs for conversion and imaging of your documents today.